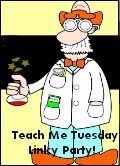 <div align="center"><a href="http://WholeChildCreativeCurriculum.blogspot.com" title="Teach Me Tuesday at Whole Child Creative Curriculum" target="_blank"><img src="http://i1082.photobucket.com/albums/j368/cmg38/TeachMeTuesdayButton.jpg" alt="Teach Me Tuesday at Whole Child Creative Curriculum" style="border:none;" /></a></div>
Teach Me Tuesday
, a link party for all things related to teaching, homeschool, and education, was so much fun last week!
Here is a great big thank-you to the bloggers who linked up with us on our first-ever link party!!
You rock! The links were amazing! Before we get started with this week's party, I am so excited to feature the link clicked on the most last week:
Snowman Tot Pack
from
Royal Baloo and Logi Bear Too
.
This fun preschool-appropriate package includes sequencing, puzzles, Which One Is Different?, and more! Thanks for sharing, Royal Baloo!

Now, On to this week's Teach Me Tuesday Link Party!
Feel free to link up anything related to education--this can be a craft, a game, a printable, a homeschool activity, a lesson plan, a curriculum, an essay, a recipe your kids helped with, or something else related to education!
Then, grab a cup of hot chocolate and your teaching calendar and see what great ideas you want to use!
The guidelines are simple:
1- Link to your post, not your whole blog.
2- Your post must be family-friendly.
3- Your post must be somehow related to education (see above comments).
4- After you link up, visit some of the other links and let them know what you think! Everybody likes to get feedback and know their post is appreciated!
5- This is optional, but I'd sure be grateful if you spread the word by posting the Teach Me Tuesday button (above) on your blog or post! The party only gets better with more bloggers!
That's it! I can't wait to get to know you and see what you're up to! Also, you're always welcome to follow me on GFC, Facebook, or subscribe to my monthly newsletter (links are in the sidebar)!
This will be a weekly party! Next week I will feature the most popular link...you know you're excited!! Also, in honor of the holiday season, next week will be a special Teach Me Tuesday--we'll be linking up holiday-related posts! I can't wait!